FIP HARDWARE BEST PRACTICE GUIDE
USB 2.0 vs USB 3.x: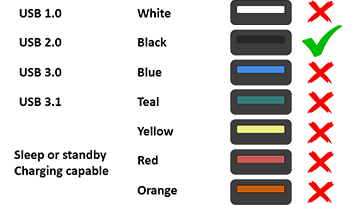 FIP's will only work properly off
USB2.0 ports and hubs
. While some very expensive USB3.0 hubs will drop down if connected to a USB2.0 device, we still HIGHLY recommend using USB2.0 end to end. The PC USB port colour should be BLACK and no other colour.
For anyone who is using USB3.0 and says "it's fine, I have fips working off USB3.0", that could be luck, or some part of the chain is dropping it down to USB2.0 speeds. USB3.0+ sends data way too fast to the fips firmware and they will crash, will require constant re-booting or power cycling.
POWERING UP and DOWN:
We recommend powering up your FIP's Hubs 10 seconds BEFORE turning on PC and recommend shutting down your PC BEFORE powering off the FIPs/Hubs. At no point should the PC be trying to power your FIPs/Hubs for you or they will crash and PC reboot won't often help. Make sure your FIP's are under hub power at all times. (unless you have upgraded your PC's USB power supply).
DO NOT sleep or hibernate your PC!
HUB POWER SUPPLIES (PSU):
Most hubs are underpowered for Pro Flight Panels (and not just FIPS) the power supply MUST be rated at least a bare minimum of 500mah Per port (1 amp per port is better). For example a 10 port hub must be rated a minimum of 5A, 4 port = 2A. Basically minimum of 0.5A times the number of ports. Do not be tempted to buy a hub with an under rated power supply and decide not to use all the ports. USB2.0 and power supply are the most important things when selecting a HUB. Unfortunately fipgauges.com can not recommend any specific hubs as we can not take any responsibility for any hub you purchase not working as expected.
Also do not run a hub off a another hub there is limited bandwidth on a USB2.0 port and you could end up bottlenecking the flow of data. Personally I don't run more than 7 devices off any one PC USB2.0 port.
Cheap Hubs tend to be cheap for a reason and usually because the included power supply is not capable of supplying a decent amount of power to ALL ports. We often see things like 10 port hubs with 2A power, which can barely run 4 devices. Also it also know that some PSU are rated higher than they can actually sustain so avoid cheap hubs.
CRASH RECOVERY:
With PC on and windows running pull out FIP USB lead for 3 seconds and re connect and will reboot and windows should detect the FIP, you will need to restart SPAD.neXt if running also.
WINDOWS POWER MANAGEMENT:
Windows turns off devices occasionally so EVERY FIP/Hub has to have power management turned off individually in windows device manager properties for each relevant device. Personally I turn off WPM on literally everything to be safe in the following three sections...
1) Universal Serial Bus Controllers
2) Logitech USB Devices
3) Human Interface Devices
ADDITIONAL POWER MANAGMENT:
Also go to Control Panel - Power Options - Change plan Settings (on your active power plan) - Change advanced power settings - USB Settings - USB selective suspend setting - Setting = Disabled. Apply and OK