Virtual FIPs
Dont have FIP hardware? no problem! you can display single or multiple gauges on monitors using SPAD.neXts Virtual FIPs. SPAD.neXt Virtual FIPs requires an additional subscription. For more information goto www.spadnext.com or check out the demo video below.

Gauges can be positioned anywhere on the screen and run initially at the default size of 320x240 pixels. Gauges can be resized (Resolution quality remains at 320x240 pixels digital zoom). Virtual FIPs can be run on the same PC as the simulator and on a second PC using the SPAD.neXt vFIP client (which is currently very buggy, please contact SPAD.neXt for any vFIP client issues).

Even though you need an additional subscription its a more cost effective solution than buying lots of individual FIPs.

Our most recent youtube gauge videos are actually a screen capture of the gauges running as a Virtual FIP.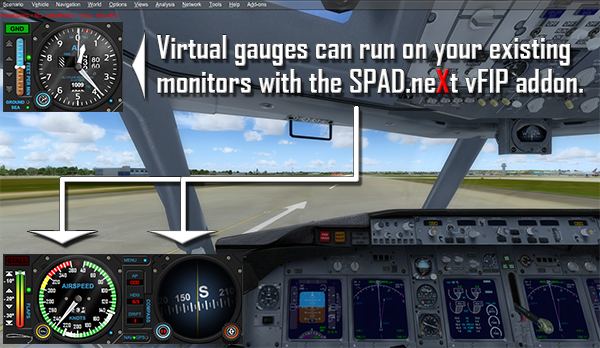 Three gauges running in Virtual FIPS on the same monitor as the simulator


SPAD.neXt Virtual FIP Demo (No Audio)



Beta vFIP Client